"Food packing machines come in various types depending on the type of food being packed. Aside from that, their packing styles are also dependent on the storage life of the product. Foods that are highly perishable like fresh processed meats and frozen items are best when vacuum packed since it can tremendously extend its storage life. In this case, there is a separate type of food packaging machine used in order to perform vacuum packing of the products."
"Bundling food packing equipment is another type of machinery that is quite common and widely used by many food suppliers. This machine is capable of storing different quantities of foods before they are banded or wrapped together as a single bundle. This is otherwise known as the banding machine. This is perfect for small items like stick candies or individually packed hotdogs that need to be bundled together for economic purposes."
"There are still many other types of food packing machines. It is important to tailor-fit the selection when you buy one of these machines according to the type of food that is being packaged to ensure optimum quality products with fully extended storage life."
To see examples of banding machines, click on the image below: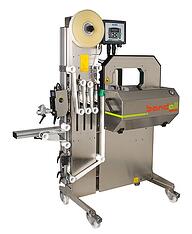 Article Source: http://EzineArticles.com/?expert=Fem_Mascenon
www.blumerusa.com