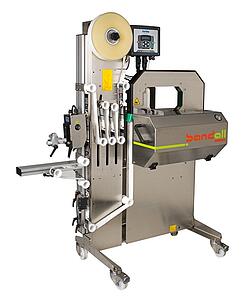 A banding machine uses paper tape or plastic film to wrap a number of items together with a band up to 3 inches wide. Stand alone or table-top varieties are available to accomodate your business needs. The types of items mostly suitable for banding are those that misalign easily, such as paper money, reams of paper, envelopes, labels, etc. Commercial items benefit from banding when a business sells a number of individual items as a pack, such as pharmaceutical products, plastic food utensils and food products. A modern banding machine has generic features across the manufacturing range, and uses the same operating principles.
When considering whether or not a banding machine might be an appropriate solution for your packaging needs, it is suggested that you have your banding machine dealer test the exact product you need banded. For example: your company sells sausages. Some sausages may be filled slightly more or less than others, changing the shape of the packages. Tests for tolerances are critical in finding the perfect banding solution for your product.
TIPS:
- Use a printable banding machine if you want the band to display merchandise information around your items.
- Adhere to the health and safety instructions from the manufacturer when operating a banding machine in order to avoid injury.
Blumer USA is able to run some testing in house and we work with the manufacturer to do more in depth testing of products before sale is made.
For more information, click here: Banding Machine